Desktop Search Engine with Drag and Drop Interface
Patrol Search, Inc announces PatrolSearch version 1.8, a smart windows based search-engine management tool, which organizes search results from 200 search engines with one mouse click. Its user interface enables the adding of new search engines to internal database via Drag-and-Drop bringing any Internet search site to the desktop. Create search engine files for any desired site and eliminate outdated, broken or irrelevant links. It automatically detects broken links and site movements and generates web page summaries (based on queries - without opening results in browser and checking relevance. Categorize results by title, URL, status and other criteria to enable a tree-like display structure. Refine saved searches by deleting unwanted items for better search result management, even while offline. Export the results in html/text format. Includes an html style tutorial and an integrated result browser with keywords highlighted.

Patrol Search, Inc
sales@patrolsearch.com
www.patrolsearch.com
Improved Load Balancing and Debugging Tools
MindBox, Inc., announces ARTEnterprise 10.0, an intelligent software development environment, now including Java interoperability, an enhanced suite of debugging tools and improved load balancing functionality. The Java is a standardized version based on the J2EE Connector standard enabling its use in standard Java and J2EE environments. The load balancing functionality increases performance and system efficiency in XML transaction-based implementations, such as its component implementations. The enhanced suite of performance monitoring and debugging tools integrates performance monitoring with transactions and results in improved reporting of detailed performance results (format in excel, information accumulated per object). Also included is improved system bug tracing as well as tracing attribute value changes and the system reports partial rule matches. Integrating data sources with business policies enables automation of best business practices and company knowledge. The software's modular, object oriented architecture provides flexibility to modify policies as needed according to business requirements and to deploy systems in heterogeneous, enterprise-wide environments.
MindBox, Inc.
Voice: (877) 650-MIND (6463)
sales@mindbox.com
www.mindbox.com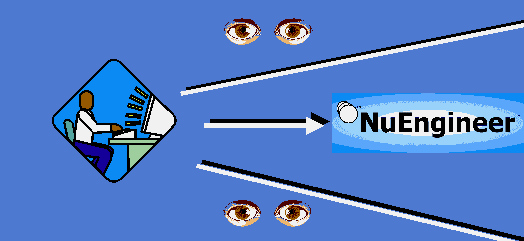 KBE Tool Integrates Design and Analysis with Design Search
Numan Intelligence, Inc. announces NuEngineer Version 2.0, a Windows based system enabling the automatic creation and review of multiple designs - each design automatically inte-grated across multiple applications throughout the design and manufacturing process. It captures knowledge by integrating a broad range of legacy data, applications, tools, and platforms. New features in Version 2.0 includes: an Intelligent Optimization Wizard; a COSMOS/Works Translator (for application integration); a menu based update for parametric control of multiple applications; search saving and plotting capabilities (2D or 3D) based upon user specified parameters. It includes a number of integration translators and examples including - SolidWorks, Solid Edge, COSMOS/Works, DDE, DDE translators (OLE/COM and Magic Fingers), DLL, TCP/IP Sockets, Excel, Allegro Common Lisp, Visual Basic, and Visual C++, Neural Networks, Genetic Algorithm/ Hybrid/Case-Based Search, User-Defined Search, Optimization, a Heuristic wizard, a Cultural Algorithms wizard, and an Intelligent Optimization wizard.
Numan Intelligence, Inc.
Voice: 877.310.1415
info@numan.com
www.numan.com

Prolog + Logic Server Adds .NET Support
Amzi! announces a .NET Logic Server class for deploying logical rules and non-procedural knowledge from .NET applica-tions. This server extends the existing family of Logic Server interfaces and classes, with their ten year track record, as an alternative for creating intelligent components for tools such as Web servers, Java, C++, Delphi and VB. All interfaces and classes allow the calling application to query